Print Room, London
The second in Hubert Essakow's trilogy conjures a love triangle through vignettes fired by fantasy, rivalry and remembrance.
Sanjoy Roy
The Guardian,
The second of Hubert Essakow's planned trilogy of "elemental" pieces is based on the idea of fire. But whereas last year's Flow was filled with real water, the flames in Ignis flicker only briefly, at the end. This melancholic, beautifully orchestrated dance-drama treats fire as something more metaphorical, more poetic and certainly more emotional: the flare of desire, the scorch of betrayal and the embers of past loves that still burn in the memory.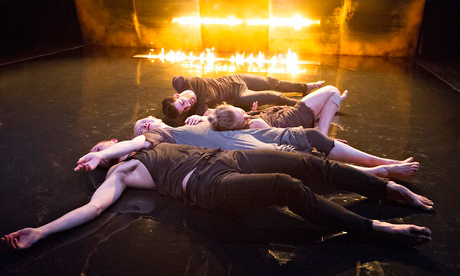 Actor Sara Kestelman plays a solitary woman recalling her past, with the dancers Noora Kela, Jordi Calpe Serrats and ?ukasz Przytarski as her younger self and two men she once loved. Does she still love them? Past and present become intertwined in a series of introspective vignettes that find the four of them in a row, each reacting to some inner thought, or seated in a closed square, eyes burning into eyes as they grasp shoulders or push away faces. There are volatile solos, duets and trios fired by fantasy, rivalry and remembrance.
Dance is deftly interwoven with speech, sound and set. The floor and the back wall are dimly reflective, so we see the action and, as if through a glass darkly, the ghosts that haunt it. The dancers echo fragments of Kestelman's spoken poetry, bringing them alive in phrases of movement and flinging them back at her.
These thoughts elicit bodily reactions: gasps and flinches. The Print Room is a tiny theatre but Ignis needs that intimacy: up close, we register the emotion in the downward cast of an eye, the catch of a breath, the reach of an arm. It is a work to contemplate, and if on occasion it veers close to the maudlin, it never feels contrived, despite its artful construction. The afterglow stays with you.
• Did you catch this show – or any other recently? Tell us about it using #gdnreview